Every story needs a good beginning, and the tale of Health By Design is no exception. Founded by Greg McLoughlin in 1995, HBD was born from a passion for teaching. Greg, a former secondary school teacher, wanted to easily integrate positive health behaviours into people's lives and so Health By Design came to be. 
Setting up in an office in Hawthorn, Greg began to build the award-winning, industry leading business that exists today. His background in teaching helped form many of the successful approaches and processes used to achieve the positive workplace health program outcomes that our clients see daily.
Health By Design has provided industry leading fully integrated workplace health and safety programs to clients in almost every sector and risk area. Fast forward to 2022 and we've worked with over 1,000 global organisations, assisting them to help their employees build good habits and perform at their best.
Health By Design offers employee wellness programs with a global service capacity. With offices and teams located in Melbourne, Perth, Auckland and beyond, we're able to service clients in all corners of Australia & New Zealand. Our friendly colleagues at HBD International also provide global services to our growing number of international clients. 
We're big believers that employee wellness is an ongoing process and are excited to be on the forefront, providing proactive programs to diverse workforce cultures and work environments.
Why work with Health By Design?
We're client focused
We understand that one size doesn't fit all when it comes to delivering an effective workplace health or injury prevention program. We pride ourselves on providing our clients with services and solutions that are tailored specifically to their workforce. Our extensive experience in the industry, along with our in house operations and research and development department, allows us to develop client specific resources that lead to the best possible program results.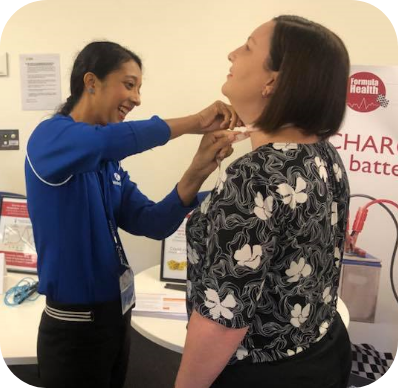 We meet people where they're at
We understand the varying stages of behavioural readiness and know that if people aren't engaged, they'll never change. To counter this, we provide health information & strategies which better fit people's existing level of interest. What we see from this is improved integration into their work day and daily lives, and consistent engagement with our coaches and programs. Win-win!
We're tried and tested
We have worked in almost every industry sector and achieved consistent total population engagement and positive health outcomes across each and every one. Our 25 years' of experience has taken us down a pathway of continual improvement and makes us an industry leader. Our results across Engagement, Behaviour Change and Measured Change outcomes vastly exceed industry standards. Want to know more? See our results page here.
Reasons to count on us
Bespoke, tailored programs
Confidentiality guaranteed
Virtual and remote options available
Diverse, tertiary qualified coaches
Seamless integration into work-flow
Awards
2002 National Safety Institute: "Innovation Award"
2006 GlaxoSmithKline – commendation – Global Excellence Awards
2007 National Concrete, Construction & Aggregates Industry – "Most Innovative Health & Safety Solution"
2008 National Seacare Awards: "Best Workplace Health Program"
2008 Winner of SEACARE awards for our Work Well Live Well Program – Best solution to an identified workplace health & safety issue (client was Toll Shipping)
2010 National Seacare Awards: "Best Solution to an OHS issue"
2021 Best Workplace Health & Injury Prevention Specialists 2021 - APAC Insider
2021 Best Multi-Sector Training Program Provider 2021 - Melbourne - APAC Insider
Our Clients